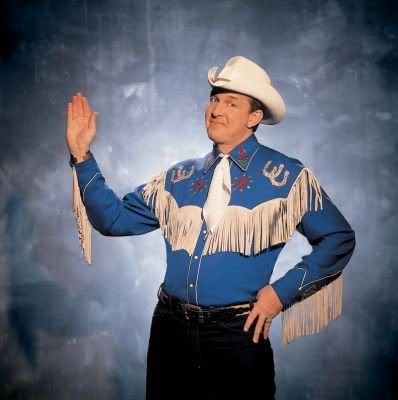 Woody Paul is known as "King of the Cowboy Fiddlers." He is lead singer/musician for Riders in the Sky, and has been selected as one of the 2012 inductees into the
National Fiddler Hall of Fame
. Paul says being inducted is an honor that is truly one of a kind. The induction gala will be held on Saturday, April 14th, at the historic Cain's Ballroom in Tulsa, Oklahoma. Riders In The Sky will be taking center stage as headlining performers during the celebration.
Riders In The Sky are probably best known for their recording of "Woody's Round Up" from "Toy Story 2." Riders in the Sky are seven-time Western Music Association Entertainers of the Year and 2-time Grammy winners. Their latest CD, "Land Beyond The Sun", offers a collection of songs recorded in the Western tradition that Riders In The Sky fans have come to expect along with classic humor which has been their trademark for more than 30 years.
The National Fiddler Hall of Fame is a non-profit organization that is committed to offering workshops, mentoring programs and educational community outreach. Its advisory board consists of notable fiddlers, celebrities, and entertainment industry executives.
Previous National Fiddler Hall of Fame inductees include: Roy Acuff, Bob Wills, Dick Barrett, Johnny Gimble, Claude "Fiddler" Williams, Johnnie Lee Wills, Buddy Spicher, Rufus Thibodeaux, and Chubby Wise.
For more information, please visit the Riders In The Sky website at
RidersInTheSky.com
or the National Fiddler Hall of Fame website at
NationalFiddlerHallOfFame.org