I received a couple new-ish albums at the station today.
Jadi Norris' "Make Hay" was released a few months ago.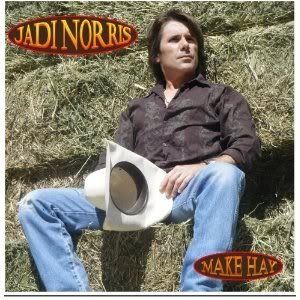 This is Jadi Norris' debut album. It features the patriotic song, "Hail the American Soldier". Jadi's style is a bit contemporary and a bit rockabilly. The album does well in mixing the rockin' & rowdy with the sweet & tender.
Take a listen to a few of the highlights -
Workin Man's Saturday Night:
Not Coming Back:
Hail the American Soldier:
She Needs Me:
Mickey Utley's "Til Our Hats Float" has been out for about a week:
Mickey may be known for his delta-blues heritage - which does come through a bit in this album - but he also brings some contemporary sound mixed with a little bit of twang. We get to hear a smidgen of fiddle, pedal steel, and even *gasp* a cowbell?! It was nice to see some familiar names in the credits of this album, including Eddie Bayers, John Jarvis, & Brent Mason.
Take a listen to a few of the tracks -
What I've learned about women:
Feels like freedom:
Let's talk about us: