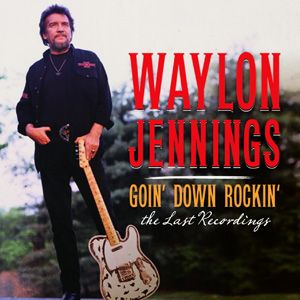 An album featuring some of the final recordings from country legend Waylon Jennings is scheduled to be released September 11th.
Goin' Down Rockin': The Last Recordings of Waylon Jennings
will be filled with recordings that Waylon made during his last few years before his death in 2002, helped by his longtime accompanist, Robby Turner. Waylon wrote all but one of the 12 songs on the new album.
Tracklisting for "Goin' Down Rockin': The Last Recordings of Waylon Jennings":
1. Goin' Down Rockin'
2. Belle of The Ball
3. If My Harley Was Runnin'
4. I Do Believe
5. Friends In California
6. The Ways of the World
7. Shakin' The Blues
8. Never Say Die
9. Wasting Time
10.Sad Songs & Waltzes
11.She Was no Good for Me
12.Wrong Road To Nashville