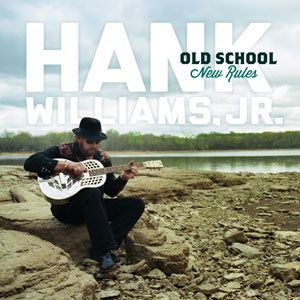 Old School, New Rules
is the title of the new Hank Williams, Jr. album, which is set for release on July 10th.
Among the songs in the new collection is a duet with Brad Paisley ("
I'm Gonna Get Drunk And Play Hank Williams
") as well as a new duet with Merle Haggard ("
I Think I'll Just Sit Here and Drink
.") The first single from the album (Hank's first release in several years) "
That Ain't Good
," has just been sent to radio stations.
You can buy the album now on pre-sale at
www.hankjr.com
.
Track Listing for "
Old School, New Rules
":
1. Takin' Back The Country
2. I'm Gonna Get Drunk And Play Hank Williams (w/ Brad Paisley)
3. Three Day Trip
4. Old School
5. We Don't Apologize for America
6. You Win Again
7. Cow Turd Blues
8. Who's Takin' Care of Number One
9. That Ain't Good
10.Keep The Change
11.Stock Market Blues
12.I Think I'll Just Stay Here And Drink (w/ Merle Haggard)