Catherine Britt offers a self-titled project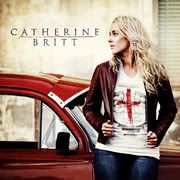 The Australian Country artist returns with a new album in which she wrote or co-wrote all of the songs. Catherine has gone back to her roots with this new release (both literally & figuratively), as she returned to Australia after six years in Nashville - an experience which she shares in the lyrics of "
Call you back town
". -- "In this counterfeit city, they don't look if you ain't pretty. And it's such a damn pity in this counterfeit city. 'Cuz they push you up just to pull you down. They pour on lies to watch you drown in this call you back town."
The greatest part of Catherine's music is her lyrical songwriting.
Here are a few songs to take a listen to:
I want you back:
I can't change a thing:
Sleepy town:
Call you back town:
Since you slipped away: