Warner Brothers Records is releasing the original songwriter demos to some of country music's biggest hits. Some of Nashville's best songwriters are represented in the two-volume series. And the CD/digital booklet for the Demos contains the stories behind each hit as told by the writers.
It is available online at
www.originalsongwriterdemos.com
as well as at all digital retailers.
Track listing for the Original Songwriter Demos: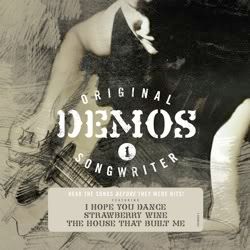 Volume 1
1. The Dance – Garth Brooks (Tony Arata)
2. Strawberry Wine – Deana Carter (Matraca Berg, Gary Harrison)
3. Something Like That – Tim McGraw (Rick Ferrell, Keith Follese)
4. Independence Day – Martina McBride (Gretchen Peters)
5. Bless the Broken Road – Rascal Flatts (Jeff Hanna, Marcus Hummon, Bobby Boyd)
6. It's Five O' Clock Somewhere – Alan Jackson (Jim Brown, Donald Rollins)
7. She Thinks My Tractor's Sexy – Kenny Chesney (Jim Collins, Paul Overstreet)
8. I Hope You Dance – Lee Ann Womack (Mark Sanders, Tia Sillers)
9. Amazed – Lonestar (Marv Green, Chris Lindsey, Aimee Mayo)
10. The House That Built Me – Miranda Lambert (Tom Douglas, Allen Shamblin)
Volume 2
1. Check Yes Or No – George Strait (Dana Hunt, Danny Wells)
2. If Tomorrow Never Comes – Garth Brooks (Kent Blazy, Garth Brooks)
3. It's Your Love – Tim McGraw and Faith Hill (Stephony Smith)
4. If You're Going Through Hell – Rodney Adkins (Dave Berg, Annie Tate, Sam Tate)
5. I Swear – John Michael Montgomery (Gary Baker, Frank Myers)
6. How Do I Live – LeAnn Rimes (Diane Warren)
7. Ain't Nothing 'Bout You – Brooks & Dunn (Rivers Rutherford, Tom Shapiro)
8. Every Day – Rascal Flatts (Alissa Moreno, Jeffrey Steele)
9. How Forever Feels – Kenny Chesney (Wendell Mobley, Tony Mullins)
10. Jesus Take the Wheel – Carrie Underwood (Hillary Lindsey, Gordie Sampson, Brett James)