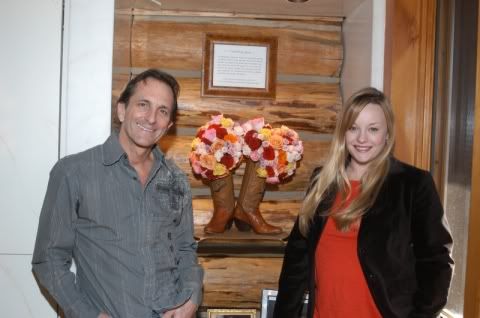 Nashville, Tenn. -- February 7, 2011 -- Marc Oswald (pictured above left), co–owner of The Fontanel Mansion & Farm, and Jaime Dudney (picture above right), director of hospitality (and Mandrell's daughter), recently accepted one-of-a-kind memorabilia from the Nashville Music Garden to remain on permanent display at The Fontanel.
The highlight of the exhibit, the inspiration for the Nashville Music Garden logo, is a beautiful bouquet of vibrant roses artfully arranged in a pair of Mandrell's personalized boots. "One of our main intentions when we opened the Fontanel Mansion and Farm to the public last year was to give country music fans the opportunity to step inside the life of a Hall of Fame entertainer," said Fontanel co-owner Marc Oswald. "To have a pair of Barbara Mandrell's boots on display in the mansion, along with the photos from the beautiful Nashville Music Garden, really adds to the experience of our guests."
Pat Bullard, Nashville Music Garden founder, also presented The Fontanel with a collage of photos and memorabilia from the September 2009 Nashville Music Garden dedication ceremony. Country greats honored by the Nashville Music Garden and featured in the new exhibit at Fontanel include Little Jimmy Dickens, Brenda Lee, Lynn Anderson and Pam Tillis.
"Only in Nashville could there be the one and only Nashville Music Garden and only at The Mansion at Fontanel have Barbara's boots found their way back to her room for all country music fans to enjoy every time they visit," said Bullard.
For more information on Nashville Music Garden visit www.nashvillemusicgarden.com
Info from Kaleidoscope Media