Growing up primarily a country music fan (for the first couple decades of life), it's taken the past two decades to catch up on lots of other great music that I've missed out on. Even with the convenience of the internet, there is still much that I have yet to hear. So I'm always pleased when artists (& their PR people) send new music to check out. I've found some of the best music that way. And I'm always pleased to bring it to the attention of other music fans.
Thus is the case with David Lowery, who is releasing his full-length solo debut,
The Palace Guards
, this Tuesday through 429 Records.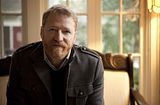 David Lowery was the co-founder and frontman for Cracker and Camper Van Beethoven, neither of which I'd previously listened to (but definitely need to go back & check out). I was looking through some background info, and noticed that his previous music was listed as ranging between "electric twang" and "psych-country". Anything that included "twang" and "country" is going to perk up my ears.
Since I'd never heard any of David's previous work and didn't know what to expect, my first listen of the album was about finding the sound. I was pleasantly surprised at what I heard. David's voice brought thoughts of a not-quite-as-raspy/gravelly Leonard Cohen (especially on Deep Oblivion) with a mixture of Umajets, Jakob Dylan & some other Roots/Americana artists.
After a few listens of the album, my favorite is by far,
Ah, you left me
, followed closely by
Raise 'em up on honey
,
Deep Oblivion
(which started out sounding eerily like a cross between Sheryl Crow's
Good is Good
and
Diamond Ring
), and
The Palace Guards
. The beginning of
Marigold
reminds me of an old Johnny Lee song. There seems to be a bit of a subtle change in vibe from the first half of the album to the second half. Strangely enough, I seem to favor the first half.
David isn't totally "solo" on this one. He relies on some of his trusted musical cohorts to help with the sound of the record. A couple of David's 'Cracker' buddies Sal Maida and Johnny Hickman make guest appearances.
Other info regarding David Lowery:
David has also currently been writing new music with Cracker and Camper Van Beethoven for upcoming albums from both bands (this will mark the first new material from CVB since their lauded 2004 New Roman Times release). In addition, David also plans to continue working on his popular 300 Songs project - a blog chronicling all of the songs he's written and recorded with both Cracker & CVB. Plans are also in the works to turn these wry, humorous and informative musings on his songs, bands and, ultimately, the music business in general, into his first published book later in the year.
To check out the album & find more information on David Lowery, visit the website:
DavidLoweryMusic.com