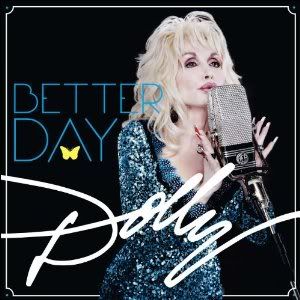 In the 44 years since her first album,
Hello, I'm Dolly
, was released, Dolly Parton has continued to reinvent herself to the latest generation without changing either her music or herself. With her 41st studio release,
Better Day
, Dolly brings more of the same countrified brightness as only she can. All of the songs are penned by Dolly, who seems to still be underrated for her songwriting skills. The greatest thing is that she's still able to incorporate the old country/bluegrass sound while making it sound mainstream enough to catch the non-country listener's ear.
While the songs are all written by Dolly, they're not all new. The first single, "
Together You and I
", is actually a remake of a song she had recorded with her former mentor and duet partner Porter Wagoner for their 1974 LP,
Porter 'n' Dolly
. This version, however, has a new tempo and has been updated to suit today's country music sound. Other tracks include "
Holding Everything
", which was recorded by Alabama lead singer Randy Owen; "
Missing You
" was originally recorded by Dolly for the film "
First Dog
"; and "I Just Might", "Shine Like The Sun", "Get Out", and "Let Love Grow" were all songs Dolly had written for her Tony-nominated score of "9 to 5-The Musical.
Take a listen to a few songs:
Together You & I:
Country Is As Country Does:
Get Out & Stay Out: