Martie Maguire and Emily Robison – the sisters that make up the new duo known as the Court Yard Hounds – aren't newcomers to the music industry. In fact, they're quite well-known. Country fans will know them as 2/3 of the Dixie Chicks.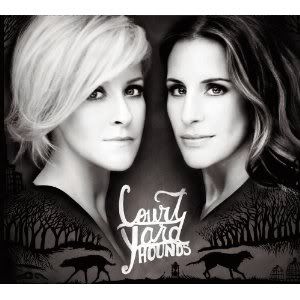 Yes, there are going to be all kinds of comparisons to the Dixie Chicks, but that wouldn't do justice to the purity of this album. Yes, the music is similar to the Dixie Chicks' style, but it's still quite different without Natalie's distinct lead vocals. The Court Yard Hounds have a mellower sound, with a little more highlight on the instrumentation.
Emily takes the lead singer duties and was the songwriter on every song except for "Gracefully," which Martie wrote and also sings. There's also a pleasant surprise with the addition of Jakob Dylan's guest vocals on "See you in the spring". The voices blend quite well.
Take a listen to some of the songs:
The Coast:
Delight (Something new under the sun):
See You In The Spring (ft Jakob Dylan):
Gracefully:
It didn't make a sound:
This is a great 'debut' for two ladies who have been in this business for a long time.
Be sure to check it out.