A duo of Dixies are howling as "Hounds" (and doing it extraordinarily well). Sisters Martie & Emily of the Dixie Chicks have a new album out tomorrow (without Natalie) and call themselves the Court Yard Hounds. So far, reviews I've seen are mixed, however, I do enjoy their sound. I'm also pleased to see the two are getting a bit of recognition for themselves. As the Dixie Chicks, they're usually overshadowed by Natalie most of the time.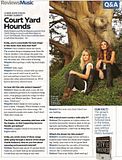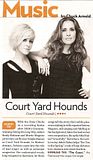 I'm working on an album review right now and it should be up soon.
A little more music talk includes a little Q&A with Melissa, and a new album for Toni Braxton. I'll admit that I'm only a semi-casual fan of Toni's music, as I have enjoyed a few of her songs through the years ("breathe again", "unbreak my heart", and "he wasn't man enough for me"). This new album is pretty decent. A few songs that I enjoy from this one include "yesterday", "hands tied", "wardrobe" and "hero". Be sure to check it out.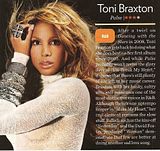 Another album that's out tomorrow, but I haven't had a chance to listen to yet is Chely Wright's new one, "lifted off the ground". Can't wait to hear that one!