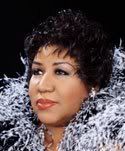 Columbia Legacy will honor music legend Aretha Franklin with the release of a 12-disc set "Take a Look: Aretha Franklin Complete On Columbia." on March 22nd. The box set is produced by Leo Sacks, and will comprehensively survey Aretha's 1960-65 stint at the Columbia. All of her master takes will be compiled; the collection will also have bonus tracks, mono mixes, alternate takes and studio chatter.
In addition to 11 CDs -- which will comprise of seven original albums, two discs of non-LP material and two new compilations -- the set will also include a five-song DVD featuring 1964 performances from "The Steve Allen Show." A 60-page booklet will include photos, recollections and an essay.
On the same day, Columbia Legacy will also issue a single CD set, "Aretha Franklin: The Great American Songbook," devoted to her Columbia recordings of standards.