It was on this day in 1968 that the Man in Black, Johnny Cash, recorded one of the greatest albums of all-time: "At Folsom Prison".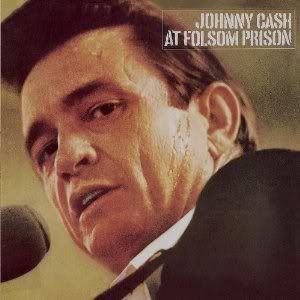 Johnny performed two shows at Folsom State Prison in California on January 13, 1968. The album that was compiled from those shows consisted of 15 tracks from the first show and two tracks from the second.
Johnny's standard entourage for those days - June Carter, The Carter Family, Carl Perkins and the Statler Brothers - all made appearances on the album as well.
The track listing for the original album release:
Side 1
1. "Folsom Prison Blues"
2. "Dark as a Dungeon"
3. "I Still Miss Someone"
4. "Cocaine Blues"
5. "25 Minutes to Go"
6. "Orange Blossom Special"
7. "The Long Black Veil"
Side 2
1. "Send a Picture of Mother"
2. "The Wall" Harlan Howard
3. "Dirty Old Egg-Suckin' Dog"
4. "Flushed From the Bathroom of Your Heart"
5. "Jackson" (with June Carter)
6. "Give My Love to Rose" (with June Carter)
7. "I Got Stripes"
8. "Green, Green Grass of Home"
9. "Greystone Chapel"
This album (mainly side 1, actually) was the soundtrack to my youth. It's one of a number of vinyl albums that I grew up listening to over & over again.
If you haven't heard this album, please be sure to check it out. It's a classic.