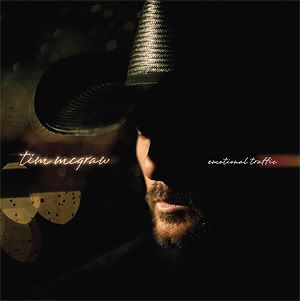 Tim McGraw & Curb Records will be getting the new year off & running with the release of Tim's new album,
Emotional Traffic
, on January 24th. The album was produced by Tim's longtime producer, Byron Gallimore.
Emotional Traffic
includes 12 new tracks, with "Felt Good On My Lips" as the first single released, which has already been certified digital gold. His current single from the album, "Better Than I Used To Be", has just recently been released and is now climbing the charts.
Tim collaborates with R&B pop artist Ne-Yo on "Only Human". Other highlights include "I will not fall down", a song co-written by Tim, Martina McBride and The Warren Brothers.
The track listing for Emotional Traffic:
1. Halo
2. Right Back Actha Babe
3. One Part, Two Part
4. I Will Not Fall Down
5. The One
6. Better Than I Used To Be
7. Touchdown Jesus
8. The One That Got Away
9. Felt Good On My Lips
10. Hey Now
11. Only Human
12. Die By My Own Hand